Overview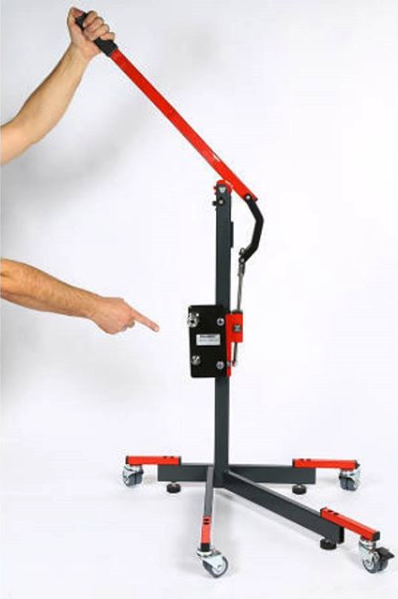 Perfect fit for your bike.
The Bike-Tower is a central stand for motorcycles that is easy to use and made of high-quality materials in Germany. The self-locking handle system ensures safety and ease of use. The Bike-Tower is powder-coated in two colours, all connecting parts as well as the mounting pins and sleeves are made of stainless steel. The moving parts run in sliding bushings and ball bearings. The Bike-Tower is suitable for assembly work, transport and presentations.
Manufaktur: Genuine handwork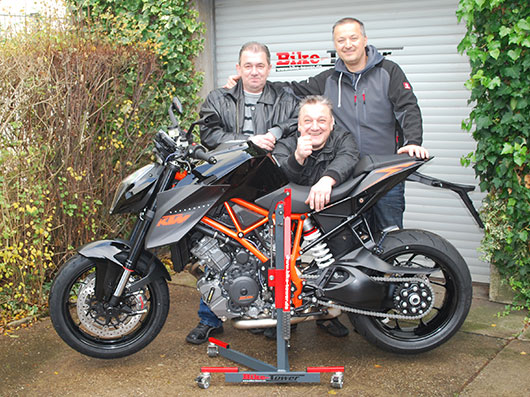 We are a family business
Bernd Brecher (†), Michael Brecher and Aleksandar Bilcar are the developers of the 1st generation Bike-Tower. At our location in Langenfeld the first Bike Tower saw the light of day in 2010. In the meantime, we have developed a second generation of the Bike Tower with tilt adjustment.
How it all began: the article "The future belongs to the brave" from the Circuit tells our story in detail (in German language). Read the article.
Made in Germany
High quality standards
The Bike Tower is not an assembly line product. The materials used are of high quality and are assembled and tested by hand.
Made in Germany.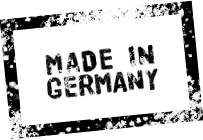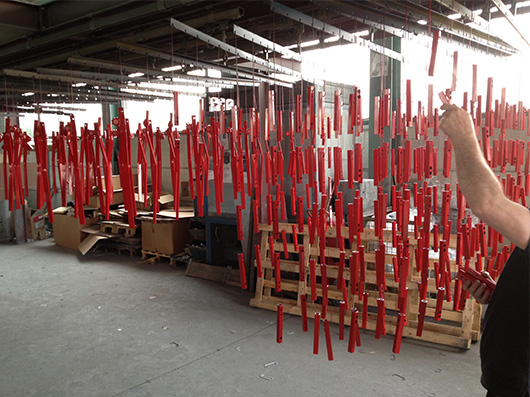 Just a note to let you know I received the bike tower today and very pleased with the quality of build I have only ever purchased Bursig before but I think your unit is far superior and a better build.
The Bike-Tower convinced me because of its quality. Finally I found a central stand for my Yamaha Super Duke that saves space and time.
Elle sont d'ailleurs au même prix. je ne regrette nullement mon achat et j'ai déjà commencé des tutoriaux gràce à elle pour la bulle et les protection carbone en devenir. Bref, un excellent produit que vous pouvez acheter sans aucune hésitation.